Magento 2 Update Service | 423-402-0147

Magento 1.9.x is at end-of-life and is no longer supported. It is critical that all commercial sites powered by 1.9.x be updated to Magento CE 2.x.x in order to remain protected by the most current security patches.
We have lots of Magento 2 Coding Experience
We have spent a great deal of time learning and working on Magento 2 platform and can provide a straightforward experience migrating magento 1 to 2 or upgrading Magento 2 to the latest stable version
We have a great deal of experience in helping folks to get organized online, and love what we do!
---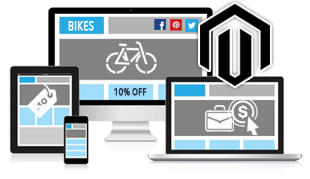 The Magento 2 Platform Offers (vs Magento 1):
Faster load time
A much improved admin interface
Improvements to the customer experience
Smoother mobile shopping
More stable coding platform
Integrated full page caching
Faster and less confusing checkout
Customizable dashboards
Modern technology stack
Built in mobile responsiveness
Magento E-Commerce Development Rates
Integration Options

As feature rich as Magento is, it is not perfect. If you are in need of specific features or functions we can help by integrating Magento with any number of online marketplaces, accounting software, analytics gathering, or many other options.
Custom Extensions
If your online store needs any features that aren't included with Magento we have the resources and knowledge to extensively customize Magento and make it do basically anything you want it to do. We know Magento like the back of our hand.
Sales Generation Services

Not every business has the resources to run an online store. Let us help you by offering you solutions such as brilliant product marketing, mailing list design and management, customer-specific promotions and much more!
How can we assist with your Magento 2 project?